Now Available…
The New NARM Book!
The Practical Guide for Healing Developmental Trauma: Using the NeuroAffective Relational Model to Address Adverse Childhood Experiences and Resolve Complex Trauma presents one of the first comprehensive therapeutic models for addressing complex post-traumatic stress disorder (C-PTSD), introducing an integrated mind-body approach for treating attachment, relational, cultural and intergenerational trauma.
This book is written to support personal and collective change.
As one of our readers shared: It's a game-changer!
"Our heartfelt desire is that the NeuroAffective Relational Model can support you and your clients and that this book will enhance the work you are all doing to heal our world."
– Dr. Larry Heller and Brad Kammer, Authors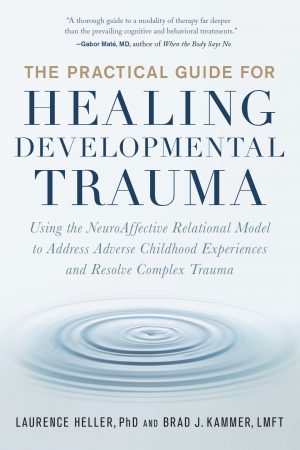 "This book, from two experienced and insightful practitioners, offers a thorough and clear guide to a modality of therapy far deeper than the prevailing cognitive and behavioral treatments. It is highly promising because it goes beyond the surface manifestations to the root causes and dynamics of human distress."
– Gabor Maté, M.D., author of
When the Body Says No
The Practical Guide for Healing Developmental Trauma presents one of the first comprehensive therapeutic models for addressing complex post-traumatic stress disorder (C-PTSD).  The NeuroAffective Relational Model (NARM) focuses on attachment, relational, developmental, cultural and intergenerational trauma. NARM is an integrated mind-body framework to help clients resolve complex C-PTSD, recover from adverse childhood experiences (ACEs), and facilitate post-traumatic growth.
Inspired by cutting-edge research on trauma, attachment, developmental psychology, and interpersonal neurobiology, as well as from sources of traditional wisdom and healing practices outside of Western psychology, NARM identifies and treats the complex ways unresolved childhood trauma manifests in disorganized personality patterns, disrupted affect regulation, and interpersonal difficulties.
NARM theory and skills for therapists and helping professionals are presented in an easy-to-apply manner.  Using many therapeutic examples and exercises throughout the book, it demonstrates how NARM can serve as a catalyst for clients to feel more fully alive, and become more fully human.
The book provides counselors, psychologists, psychiatrists, social workers, and trauma-informed helping professionals with the theoretical background and practical skills they need to help clients transform complex trauma.  It can also be a useful tool as a practical guide for those of you who are seeking personal healing and growth.
This book covers:
The four pillars of the NARM therapeutic model
The differences between shock trauma and developmental trauma
The psychobiological impacts of complex post-traumatic stress disorder (C-PTSD)
The role of emotions and relational support in transforming complex trauma
The therapeutic power of intention, agency and self-activation
A relational framework for supporting greater capacity for connection with Self and others
How to integrate the organizing principles of NARM into your therapeutic practice
NARM is not just a clinical model for resolving complex trauma—it's a blueprint for supporting relational health. By introducing a depth-oriented, somatic-based approach for shifting the psychobiological adaptations to complex trauma, the authors provide readers with a greater understanding of what is driving human pain and suffering. This relational framework is based on a foundation of heartfulness.
Want to join the Virtual Book Launch Party? You're invited! Register by clicking the button below.
What people are saying about the book…
"This new book, written by Dr. Laurence Heller and Brad Kammer, presents the clinical approach to the NeuroAffective Relational Model (NARM), and continues NARM's important contribution to the rapidly evolving field of traumatology. As a follow up companion to the groundbreaking book Healing Developmental Trauma, this practical manual offers step by step guidance to those wishing to treat some of the most hard-to-treat patients who suffer from the heartbreak of developmental trauma. This book is designed mostly for therapists wanting to better understand NARM but also for some trauma survivors who want to educate themselves about how the NARM method works. While trauma experts scratch their heads about how to best treat early developmental trauma, and while finding consensus among the experts can be challenging, NARM offers a much-needed tool in the integrative trauma therapist's medicine bag."
– Lissa Rankin, MD, New York Times bestselling author of Mind Over Medicine and Sacred Medicine
---
"Heller and Kammer's essential guide expertly translates our best science into the therapeutic skills-building roadmap we need to heal the complex developmental trauma so prevalent among our children, families, communities and world today. We are reminded that building our capacity to heal others heals us as well as we support the innate human capacity to grow and flourish through adversity. The comprehensive NARM approach is a coherent pathway to build the knowledge, skills and joyful work of healing by restoring an embodied sense of connection, belonging and ongoing sense of confidence to meet life's challenges."
– Christina Bethell, PhD, MBA, MPH, Professor of Child Health, Bloomberg School of Public Health, Johns Hopkins University
---
"Brad Kammer and Larry Heller bring humanity, optimism, and a vision in advancing trauma-informed treatment into the mainstream of therapeutic practice. They offer a remarkably accessible and comprehensive guide to the application of the NARM model, an approach to working with individuals who have experienced attachment and developmental trauma. The authors offer an understanding of the foundations of the NARM model, and a clearly articulated guide to how to apply NARM principles in clinical practice. The book is enriched by the inclusion of abundant clinical examples, with excerpts from actual therapeutic sessions, as well as by thoughtful exercises which invite the reader to reflect on the material presented, in support of their deeper understanding and integration. In this way, the book does what is rare in a clinical guides – it teaches in a way that parallels the important themes being taught.
If you are a therapist looking for an integrated, inspiring and effective model for treating complex, developmental trauma, with an approach to working with clients from a place of more curiosity and collaborative exploration and less "efforting" (and burn-out), while supporting ongoing professional and personal growth, this book is a must read."
– Marcia Black, PhD, Clinical Psychologist in private practice for over 40 years
Read the first NARM book: Healing Developmental Trauma: How Early Trauma Affects Self-Regulation, Self-Image, and the Capacity for Relationship co-authored by NARM Creator Dr. Laurence Heller
Read the influential book that is inspiring people interested in healing and growth and changing the way therapists address complex trauma.  The book and audiobook are available on Amazon and other online booksellers.