NARM Training Institute Staff
Adriana Ponce-Jimenez
(She / Her)
Training and Operations Manager
Adriana Ponce-Jimenez is the Operations & Training Manager at the NARM Training Institute. With over fifteen years of hospitality management experience and a passion for developing successful teams, Adriana brings a unique blend of operational and relational skills to the Institute. Adriana is excited to be joining the team to not only support the day-to-day aspects but also to support the vision of NARM being at the helm of healing trauma.
Alisa Sponseller
(She / Her)
Community Support Coordinator
Alisa Sponseller holds the role of Community Support Coordinator at the NARM Training Institute. With her background in Community Health Education, she is passionate about the growth and wellbeing of others. With more than 6 years of customer service experience and working to help others on their wellness journey, Alisa is excited to continue her passion of helping others through her support at the NARM Training Institute.
"I'm truly so privileged to have the opportunity to be a part of the NARM community. Being able to interact with the staff and students who are doing such meaningful and life changing work is inspiring and aligns with my own passions for self love and growth.  I'm excited to grow and learn with the team as we continue to support each other on the mission to help heal complex trauma."
Lisa DePaulis
(She / Her)
Training Coordinator
Lisa DePaulis is the Training Coordinator at the NARM Training Institute. Lisa brings unique expertise in communication and problem-solving. Her previous roles in higher education and human resources coupled with a degree in mental health counseling facilitate a smooth transition into the Training Coordinator role. She has a passion for helping others and is eager to support faculty, training assistants, students, as well as her NARM team.
"I genuinely enjoy learning about NARM and to be part of something so impactful is a gift. I am grateful to be surrounded by a team whose passion is healing complex trauma; a vehicle for transformation on a personal and collective level."
Tori Essex
(She / Her)
Systems and Product Manager
Tori Essex holds the role of Systems and Product Manager at the NARM Training Institute. Tori has more than five years of experience with project management in the art and design field, and joins us from her previous role as a university admissions counselor. To our team, she brings strong creative problem solving skills and an eye for detail.
"I'm so excited to be a part of the NARM Training Institute. After feeling the life-changing effects of NARM in my own life, I remember wishing that I could share the experience with every other person in the world. My work for NARM is right in-line with that desire. I look forward to supporting the NARM Training Institute, and experiencing my curiosity transform into a deeper understanding of NARM's work."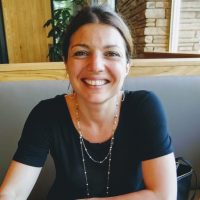 Olga Piontkowski
(She / Her)
Customer Relations Manager
Olga Piontkowski is the Customer Relations Manager at the NARM Training Institute. She has a background in Psychology and the conflict management training field. Olga's passion for building relationships, while creating efficient and effective organizational processes, are a perfect fit for helping the NARM Training Institute further build and support its community of helping professionals.