Transforming Trauma Episode 036: How NARM Supports Trauma-Informed Bodywork with Dr. Mark Olson, Ph.D.
A podcast brought to you by the NARM® Training Institute
"The principles of NARM blend perfectly with the kind of [bodywork] techniques that we teach."
~ Mark Olson, Director of the Pacific Center for Awareness and Bodywork
In this episode of Transforming Trauma, our host Sarah Buino interviews Mark Olson, Ph.D., the owner and director of the Pacific Center for Awareness and Bodywork (PCAB), a massage therapy school located in Kauai that integrates bodywork with somatic psychology, contemplative practice, and affective neuroscience with a trauma-informed framework.  A neuroscientist by training, Mark discovered the power of bodywork which transformed his career.  After being introduced to NARM, he shifted his bodywork focus to a trauma-informed approach that integrates body and mind. Throughout the episode, Sarah and Mark discuss the exciting application of the principles of the NeuroAffective Relational Model (NARM) within PCAB, and how using NARM has changed the way that he understands his work with clients, in addition to the entire way that he structures his educational program for new bodyworkers. 
Mark's intention for this episode is to help people see bodywork from a different perspective, "and to maybe consider that a lot of the things that make a psychotherapy session work, are the same things that make a massage session work."  Trauma-informed massage is not psychotherapy mixed with bodywork, although it does rely on understanding elements of the cognitive, emotional and relational aspects necessary for creating optimal conditions for healing through the body.  While trauma-informed bodywork might not look much different than other bodywork approaches, it feels very different because of integrating these important mind-body components. 
Mark describes two main reasons that clients seek massage: they are experiencing either pain or anxiety. "And so right away, we're already in this [body-mind] world. Anxiety obviously is very mind-based, and pain is a very complex topic that has numerous…elements to it." Sarah and Mark discuss the importance of a bodyworker meeting the massage client with relational curiosity, rather than meeting them with preconceived knowledge, assumptions or interpretations about what the client is experiencing.  As simple as this sounds, this can be challenging for many bodyworkers.
Mark shares the many ways that he is using trauma-informed, NARM-informed principles to train new bodywork students in his school.  It starts with training them to invite their clients to be the one that sets the goals for the work, and the fundamental rejection of the dynamic that many physical therapy professionals actively promote: "The client feeling that they're broken and the therapist thinking that they're the ones to fix it."  Mark and Sarah see how this dynamic is flawed from the outset, and how NARM has helped them to understand a deeper truth: that the client's symptoms are present for an important reason that needs to be understood and honored, rather than forced to change. As Mark states: "And that may seem all very obvious, but in the world of bodywork, that's actually not the norm."  
Mark recognizes that what is commonly seen as limitations of the body – such as range of motion issues or muscle tightness – are actually protective mechanisms of the body that occur unconsciously, and when viewed through a trauma-informed lens, can be more effective than physically manipulative techniques that are so commonly used.
Learning NARM has helped Mark to be more present with his clients, and to bring greater curiosity, acceptance and compassion, as opposed to meeting them as problems to be solved or fixed. He shares how being educated in developmental trauma has given him the ability to have more awareness of his own internal reactions when working with clients, and he has experienced a greater sense of spaciousness in himself that "allows for that person to be wherever they are and be just curious about whatever they're experiencing." 
The episode concludes with Sarah reflecting on how her idea of what bodywork can be has been deepened by their conversation. The Pacific Center for Awareness and Bodywork is a very unique, one of a kind bodywork program, not just because it is the western-most bodywork program in the United States, but because of the trauma-informed foundations on which it runs.  With his deep understanding of neuroscience and trauma, and by bringing curiosity and an important relational component to the work, Mark is evolving the field of bodywork in an exciting direction.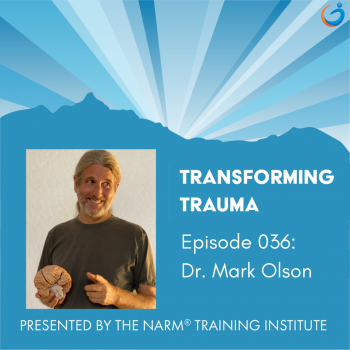 Subscribe for All Episodes
on your Favorite Service: